Amnis® FlowSight® Imaging Flow Cytometer
Flow Cytometry with Vision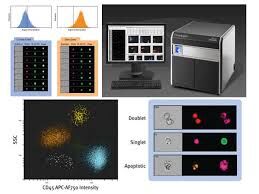 The FlowSight® Imaging flowcytometer offers high performance in a small package. Identifying cell conjugates or distinguishing single cells from doublets and debris has never been so effortless. The FlowSight® Imaging Flow Cytometer stands apart from other conventional flow cytometers by producing up to 12 images of each and every cell. The unique image collection system simultaneously produces darkfield (side scatter), brightfield, and up to 10 fluorescence images. The FlowSight® Imaging Flow Cytometer operates at ~20X magnification allowing visualization of fluorescence from the membrane, cytoplasm, or nucleus.
Numerous thoughtful design details like a dedicated side scatter laser, adjustable laser intensities, and brightfield imagery for the direct measurement of cell size allow the FlowSight® to resolve cell populations more effectively than far more expensive cytometers. The ease of use, outstanding performance, and imagery of each cell allow the FlowSight® to meet the needs of beginners and experts alike. A proprietary CCD camera, coupled with patented detection technology, yields fluorescence sensitivity that is at least ten times that of PMT-based flow cytometers across all channels.
The Amnis imaging cytometer is supported by post-acquisition image processing software allowing highly quantitative determinations of the location and strength of fluorescence signals for morphological applications such as nuclear translocation and shape change. IDEAS® Software combines image analysis, statistical rigor, and visual confirmation in an easy-to-use package. Flow cytometry has never been so intuitive.
Main features include:
2,000 cells per second (i.e. 24,000 images per second)
12 image channels per cell
AUpto 4 excitation lasers (405, 488, 561, 642 nm)
20X magnification
Multiwell autosampler
A powerful quantitative image processing software IDEAS®
With the imaging capabilities of the FlowSight®, you'll never wonder about outliers or whether your gates are in the right place. With visual feedback, you can optimize gate size, shape, and position for better data quality.
Performance characteristics
Detection: 12 channels standard – two brightfield images, one darkfield (SSC) image and up to 10 fluorescence images
Illumination: Excitation – 488 nm standard; 405, 561, and 642 nm optional Side scatter – 785 nm standard Brightfield – fixed channel 1/9 standard, multi-channel optional
Collection: 20X magnification at 0.6NA with a 1.0 micron pixel size
Field of View 60 x 256 μm
Imaging Rate 2,000 events/sec
Sample characteristics
Volume: 20-200 μL
Utilization Efficiency: up to 95% of sample
Automated instrument operations
Start up,
sterilize,
shut down Sample load and
acquisition Laser alignment,
focus adjustment,
calibration and self test
Operational requirements
400W, 100-240 VAC, 50/60 Hz
No external air or water necessary
Physical characteristics
18 W x 18.3 H x 25 D inches (457 mm x 465 mm x 635 mm)
135 lbs. (61 kg)
Immunology
Oncology
Biochemistry
Drug discovery
Stem cell biology
Hematology
Microbiology
Virology
Toxicology
INSPIRE Acquisition software
IDEAS analysis software
---
Amnis brand FlowSight Imaging Flow Cytometer - Flow Cytometry with Vision
Multispectral Imaging in Flow Applied to Apoptosis Research with Amnis® Flow Cytometry
Multispectral Imaging in Flow Applied to Internalization with Amnis® Flow Cytometry
Multispectral Imaging in Flow Applied to Cell Signaling Research with Amnis® Flow Cytometry
---