Guava® easyCyte Flow Cytometer
Flexible. Intuitive. Affordable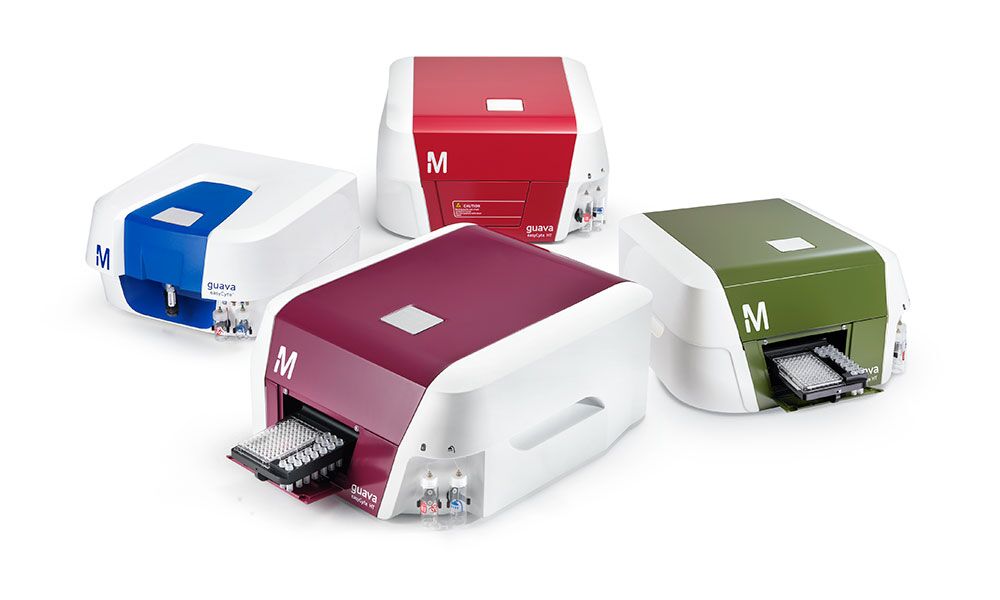 Guava® easyCyte flow cytometers from MERCK LIFESCIENCES use novel microcapillary technology that enables a compact, user-friendly format powerful enough to run your most complex assays. Microcapillary flow cytometry systems are simpler to operate than traditional sheath-fluid based instruments and are far easier to maintain. They utilize small sample volumes, generate minimal waste, and have lower operating costs. Absolute cell counts are a distinct advantage of direct sampling, and automatic cell enumeration is returned from every sample acquired on a Guava® cytometer. A positive displacement syringe pump enables not only direct sampling, but can adjust the flow rate as well to ensure clear data from a range of sample titers.
New, more robust lasers available in virtually any combination mean that you choose the excitation and emission channels that are a match for your lab's experiments and budget. All of our versatile optical configurations are available with an affordable single-sample loader, or an integrated multiwell sample tray option (Guava® easyCyte HT series), for trouble-free walkaway acquisition of up to 96 samples as well as upto 10 sample tubes.
As a result, Guava® easyCyte flow cytometers are uniquely amenable to on-demand use in the laboratory environment and have helped many scientists achieve insightful cellular analysis since 1998.
Important features:
Up to 3 lasers and 12 parameters on a benchtop instrument
Detection of particles as small as 0.2 μm
Microcapillary fluidics design eliminates sheath fluid and waste carboys
Intuitive software InCyte™ includes comprehensive cell-health related assays
Single Sample Loading or High-throughput option for walk-away acquisition of up to 96 samples
Instrument Specifications



Operating Environment:




easyCyte™ System size:

easyCyte™ HT System size:

easyCyte™ System weight:

Signal Processing:

Parameter Dynamic Range:

Sample Formats:



-Temperature: 16°–35°C (60°–95°F)
-Humidity: 10–90% relative humidity (non-condensing)
-Power: 100–240 VAC, 50/60 Hz, 120W
-Fuse rating in USA and Japan: 2 A, 110 VAC Slo-blo (Time Lag) type
-17.8 in (45.1 cm) x 8.8 in (22.2 cm) x 17.25 in (44.5 cm)
-20 in (51 cm) x 10 in (25 cm) x 23.4 in (59 cm)
-Digital Signal Processing
-5.0 decades
-Single Tube Loader or Automated 96-well Plate Loader

Fluidics Specifications



Flow Cell Dimension:

Pump:

Sheath Fluid:

Sample Flow Rate:

Waste Generation:

Dead Volume:

Cell Size:

Typical # of Cells/Protocol:



-Standard square capillary with ID of 100 µm
-Positive displacement
-None
-7µL/min to 72 µL/min
-typically <40mL in 8 hours of continuous use
-50 µL (for 96-well microplate)
-0.2-60 µm
-1,000 – 10,000 cells/test

Biosynthesis
Cell Biology
Cell Health
Immunology
Screening
Stem Cells
BioProcess
---
Guava easyCyte Flow Cytometers – Expanding the potential of Flow Cytometry
Do you need a flexible, intuitive, and affordable flow cytometer?
---