IVIS® SpectrumCT System
Preclinical true 3D optical In-vivo imaging system with microCT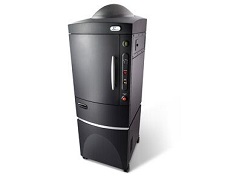 The IVIS® SpectrumCT expands upon the versatility and advanced 3D optical feature sets of the IVIS® spectrum by integrating low dose microCT to support longitudinal imaging. The IVIS® SpectrumCT enables simultaneous molecular and anatomical longitudinal studies, providing researchers with essential insights into complex biological systems in small animal models. The constant horizontal gantry motion and the flat panel detector provide unparalleled performance for low-dose imaging and automated optical and microCT integration. The stable revolving animal platform table rotates 360° to acquire full 3D data. Multiple animals can bescanned simultaneously while maintaining an average dose per scan at about 13mGy, with a scanning and reconstruction time of less than a minute. Optical and microCT modalities can also operate independently.
Advanced spectral-unmixing algorithms and a broad range of high spectral resolution filter sets minimize autofluorescence and provide the opportunity to image a wide variety of targeted and activatable fluorescent probes and reporters. Fluorescence imaging can be performed in high-throughput epi-illumination mode or trans-illumination mode to enable deep tissue sourcedetection and quantitation.
IVIS® SpectrumCT offers bioluminescent, Cerenkov and fluorescent imaging for true quantitative and calibrated analysis of optical data. From high-throughput optical screening of 5 mice simultaneously to intricate complex animal modelling, the SpectrumCT offers imaging solutions for a comprehensive array of applications within biomedical areas including oncology, infectious diseases, musculo-skeletal, cardiovascular, neurology and respiratory research.
Key features include:
Integrated optical and microCT technology
3D optical tomography for fluorescence and bioluminescence
The industry's most sensitive detection technology ideal for:
Bioluminescence
Multispectral fluorescence and spectral unmixing
Cerenkov imaging for optical radiotracer imaging
Low dose and ultra fast microCT
DyCE™ dynamic enhanced imaging for real time distribution studies of both fluorochromes or PET tracers ideal for PK/PD app
Instrument Specifications



Camera

CCD Size

Imaging Pixels

Quantum Efficiency

Pixel Size

Minimum Detectable Radiance

Min. Field of View (FOV)

Max. Field of View (FOV)

Min. Image Pixel Resolution

Lens

Read Noise

Dark Current (Typical)

Excitation Fluorescence Filters

Emission Fluorescence Filters

Transillumination Stage

3D Tomography Software

CCD Operating Temperature

Maximum Energy

Focal Spot

X-ray Detector

Detector Size

Detector

Detector Operating Temp. Range

μCT Field of View

Voxel Size

Standard Scan Time

Standard Reconstruction Time

Standard Scan Dose

Limiting Resolution (3% MTF)

Safety Requirements





Sensor Back-thinned, back-illuminated Grade 1 CCD
2.7 x 2.7 cm
2048 x 2048
> 85% 500-700 nm; > 30% 400-900 nm
13.5 microns
70 photons/s/sr/cm2

3.9 x 3.9 cm

23 x 23 cm

20 microns

f/1 – f/8 1.5x, 2.5x, 5x, 8.7x magnifications
< 3 electrons for bin=1,2,4; < 5 electrons for bin=8,16
< 100 electrons/s/cm2
10

18

yes

Included

-90 °C

Maximum Energy of 50 kV with 1 mA
50 um
CMOS
3072 x 864 pixels
ADC Bit Depth 14 bits
10-40 °C

126 x 126 x 31 to 20 x 20 x 20 (L x W x H, mm)
41 μm – 328 μm
3.6 to 72 seconds
40 to 150 seconds

minimum of ~13mGy
150 μm

Less than 1uSeviert/hour max exposure at 5 cm from anywhere outside cabinet, FDA and TUV approved


Hardware Specifications

Imaging Chamber Interior Size

Imaging System Space Requirement

Power Requirements

Stage Temperature

Heated Chamber

Gas Anesthesia Ports

Injector Ports

Computer






43 x 50 x 60 cm (W x D x H)

203 x 163 x 214 cm (W x D x H)

20 Amps for 120 VAC or 10 Amps for 230 VAC
20-40 °C
Yes
Yes
Yes
Quad Core 2.8 GHz, 12 GB, 1333 MHz DDR3, SDRAM, 2GB NVIDIA Quadro 4000 with 256 CUDA Cores, I TB hard drive, 20" flat screen monitor

Low dose and Ultra-fast MicroCT imaging
Multispectral Fluorescent imaging and spectral unmixing
Bioluminescence imaging
Cerenkov Imaging
True 3D topographic imaging
Fluorescent agents, Dyes, Labelling Kits, and Nanoparticles
Bioluminescent oncology cell lines and bacterial created using luciferase (luc2) vector for utlra brite sensitivity
Bioluminescent substrates including D-Luciferin K+ salt and RediJect Luciferin in ready-to-use injectable format
Radio imaging reagents
---
PerkinElmer's IVIS SpectrumCT Pre-clinical In Vivo Imaging System
In Vivo Bioluminescence Imaging on the IVIS Platform
PerkinElmer's IVIS Spectrum Pre-clinical In Vivo Imaging System
---