IVIS® Spectrum System
Non-Invasive Quantitative 3D Molecular Optical Imaging System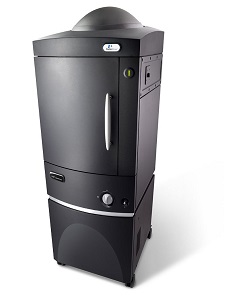 IVIS® Spectrum, most trusted optical imaging system combines high throughput and full tomographic optical imaging in one platform. The system uses leading optical imaging technology to facilitate non-invasive longitudinal monitoring of disease progression, cell trafficking and gene expression patterns in living small animals. Only system in the industry which offers true 3D tomography for both fluorescent and bioluminescent reporters that can be analyzed in anatomical context against a Digital Mouse Atlas or Co-registered with other tomographic technologies such as MR, CT or PET through the multimodality modules. Take full advantage of bioluminescent and fluorescent reporters across the blue to near infrared wavelength region using optimized set of high efficiency filters and spectral unmixing.
The instrument is equipped with 10 narrow band excitation filters and 18 narrow band emission filters that assist in significantly reducing autofluorescence by the spectral scanning of filters and the use of spectral unmixing algorithms. The spectral unmixing tools available only in perkin elmer IVIS instruments enables the researcher to separate signals from multiple fluorescent reporters within the same animal. You can choose from Perkin Elmer's extensive portfolio of Invivo Imaging Fluorescent and Bioluminescent Cell Lines, Agents and Dyes to simplify your research.
Living Image® Software has been specially designed to simplify advanced and complex biological models by intuitively guiding the user through experiential setup and analysis. The imaging wizard option with a range of newly added probe library helps user design imaging settings and selects the right filter pair for fluorescence studies.
Key Features
True 3D full Tomographic optical imaging
High throughput
In vivo, in vitro and ex vivo
Exquisite sensitivity in Bioluminescence, Fluorescence, Chemiluminescence, Cerenkov Imaging
Full fluorescence tunability through the NIR Spectrum
Up to 18 filter sets
Transmission & Reflectance Imaging
NIST Absolute calibration
Compute Pure Spectrum spectral unmixing
Digital Mouse Atlas for Anatomical Reference
Deep Tissue Imaging & Precise X,Y Source location
Co-registration of 3D data with other 3D modalities such as PET/SPECT/MRI etc.
Instrument Specifications

Camera

CCD Size

Imaging Pixels

Pixel Size

Min. Detectable Radiance

Min. Field of View (FOV)

Max. Field of View (FOV)

Min. Image Pixel Resolution

Lens

Read Noise

Dark Current (Typical)

Excitation Fluorescence Filters

Emission Fluorescence Filters

Transillumination Stage

3D Tomography Software

CCD Operating Temperature



Sensor Back-thinned, back-illuminated Grade 1 CCD
2.7 x 2.7 cm
2048 x 2048
> 85% 500-700 nm; > 30% 400-900 nm
13.5 microns
70 photons/s/sr/cm2
3.9 x 3.9 cm
23 x 23 cm
f/1 – f/8 1.5x, 2.5x, 5x, 8.7x magnifications
< 3 electrons for bin=1,2,4; < 5 electrons for bin=8,16
< 100 electrons/s/cm2
10
18
Yes
Included
-90 °C


Hardware Specifications

Imaging Chamber Interior Size

Imaging System Space Requirement

Power Requirements

Stage Temperature

Heated Chamber

Gas Anesthesia Ports

Injector Ports





43 x 50 x 60 cm (W x D x H)
203 x 163 x 214 cm (W x D x H)
20 Amps for 120 VAC or 10 Amps for 230 VAC
20-40 °C
Yes
Yes
Yes

Oncology
Stem Cell Research
Infection Biology
Neurodegenerative Disorders
Parasitology
Virology
Crispr/Cas9 Applications
Inflammation Biology
Immunology Research
Plant Biology
many more
---
PerkinElmer's IVIS Spectrum Pre-clinical In Vivo Imaging System
In Vivo Bioluminescence Imaging on the IVIS Platform
---