Chromium Controller
Our solutions. Your sequencer. Powerful discovery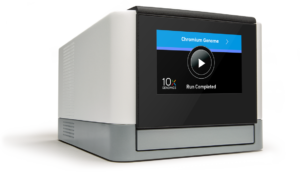 The compact, sleek Chromium Controller from 10x Genomics, has been designed to rapidly and efficiently automate the equivalent of 100,000s to 1,000,000s of pipetting steps for highly parallel sample partitioning and molecular barcoding. The Chromium Controller allows a user to run any of our Chromium Single Cell Gene Expression, Single Cell Immune Profiling, Genome Sequencing and Exome Sequencing Solutions.
Features:
Long-range information from a short-read Illumina sequencer
Call and phase major classes of structural variants (SVs)
like deletions, inversions and translocations, even in genes inaccessible to short-read sequencers
Phase SNVs, indels and SVs across >10 Mb haplotype blocks
High-quality libraries from as little as 1 ng of genomic DNA
Turn-key analysis pipeline and visualization toolsCompatible with Illumina® HiSeq® 4000/2500/NextSeq®/MiSeq® sequencers
The Chromium System, powered by GemCode™ Technology, is an innovative system that transforms the capability of existing short-read sequencers. With millions of uniquely addressable partitions, the Chromium System unlocks critical genomic information.
Chromium Genome Sequencing Solution
The Chromium Genome uses the power of Linked-Reads to fully resolve genic phasing, reveal structural variation and detect variants in previously inaccessible and complex regions of the genome.
Chromium Exome Sequencing Solution
The Chromium Exome provides long range information, enabling phasing, structural variant detection and copy number determination. Low complexity and repetitive regions previously missed with short-read sequencing are now accessible.
Chromium de novo Assembly Solution
Discover the true genome with the Supernova Assembler and open the door to low-cost, everyday diploid assemblies. Unlock sample-specific sequences, probe diploid genome structure and remove the need for a reference sequence of any kind.