DNBSEQTM – G400 Genetic Sequencer
Comprehensive and flexible production-scale sequencer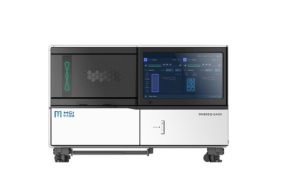 MGI's DNA sequencing instruments utilize the state-of-the-art core technology called DNBSEQTM. DNBseq™ sequencing technology, an Error-free Nanoarray Sequencing Technology, delivers multiple read lengths and optimized sequencing time, enabling you to complete sequencing in a short period of time with high quality yield (Q30 ≥ 85%) in standard FastQ format.
The instrument supports sequencing and data analysis in a wide range of areas including basic research, clinical research, forensics and agriculture
The DNBseq™ Sequencing technology combines the power of DNA Nanoballs (DNB™), PCR-free Rolling Circle Replication, Patterned Nano Arrays and cPAS to deliver a new level of data clarity and affordability. The combination of linear amplification and DNB technology reduces the error rate while enhancing the signal, resulting in real advantages.
Operating Temperature: 19°C – 25°C
Humidity: 20% RH – 80%RH (non-condensing)
Air Pressure: 70kPa – 106kPa
Power source: 100–240 V, 50–60 Hz, Rated Power = 1200VA
Dimensions: 1228 x 734 x 723 mm
Weight: 200 kg
Whole Genome Sequencing (WGS)
Exome Sequencing (WES)
Transcriptome Sequencing
RNA/Non-codingRNA/small-RNA sequencing
Targeted Region Sequencing
Single-cell sequencing
Microbial sequencing
Epigenetics Sequencing
NIPT
PGS/PGD
BRCA1/2 screening
Cancer Hot-spot screening
Targeted Tumor Sequencing
Monogenic Disorder Detection
Rapid Pathogenic & Microbial Testing
Sequencing kits
DNBSEQ-G400RS High-throughput Sequencing Set(SE50)
DNBSEQ-G400RS High-throughput Sequencing Set(SE100)
DNBSEQ-G400RS High-throughput Sequencing Set(PE50)
DNBSEQ-G400RS High-throughput Sequencing Set(PE100)
DNBSEQ-G400RS High-throughput Sequencing Set(PE150)
DNBSEQ-G400RS High-throughput Sequencing Set(SE400)

Library Preparation
MGIEasy mRNA Library Prep Kit
MGIEasy RNA Directional Library Prep Kit
MGIEasy rRNA Directional Kit
MGIEasy Small RNA Library Prep Kit
MGICare Single Cell Chromosome CNV (Copy Number Variations) Detection Kit
MGIEasy DNA Library Preparation Kit
ZLIMS Software (Zebra Laboratory Information Management System)
MegaBOLT Software (MegaBOLT bioinformatics analysis accelerator)
---
DNBSEQ™ Technical Interpretation
Webinar: MGI DNBSEQ™ Sequencing Technology
---