MinION
Only portable real-time device for DNA and RNA sequencing.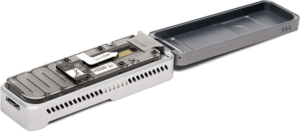 Technology that offers:
Direct DNA/RNA sequencing
REALReal-time
No capital cost required
Ultra-long reads
Scalable to portable or desktop
10 min library prep
High-fidelity
High yields for large genomes
Each consumable flow cell can now generate 10–20 Gb of DNA sequence data. Ultra-long read lengths are possible (hundreds of kb) as you can choose your fragment length. The MinION streams data in real time so that analysis can be performed during the experiment and workflows are fully versatile.
Features:
Pocket-sized, portable device for biological analysis
Up to 512 nanopore channels
Simple 10-min sample prep available
Real-time analysis for rapid, efficient workflows
Adaptable to direct DNA or RNA sequencing
MinIT available to support IT/software needs
The MinION weighs under 100 g and plugs into a PC or laptop using a high-speed USB 3.0 cable. No additional computing infrastructure is required. Not constrained to a laboratory environment, it has been used up a mountain, in a jungle, in the arctic and on the International Space Station.
Long reads –
Choose your read length: 5kb? >200kb? Longer?
Easier assembly, phasing
Covering repetitive regions
Real time –
Immediate access to data
Rapid time to result – move on
Rapid insight into whether status of sample
Easy, rapid prep –
1D library prep: <10mins, 2 pots
Low cost of materials
De-skill prep
On demand –
Run different experiments in sequence on one flow cell
Barcode for even more samples
Run many experiments on one device
Accessible –
No capital cost
Easy install
No additional lab infrastructure requirements
Nanopore sequencing offers advantages in all areas of research:
Microbiology
Environmental research
Microbiome
Basic genome research
Human genetics
Cancer research
Clinical research
Plant research
Transcriptome analysis
Population genomics
Animal research
Whole genome sequencing
De novo assembly
Scaffolding and finishing
Variant analysis: structural variation
Variant analysis: SNVs, phasing
Resequencing
Targeted sequencing
Panels – amplicons, sequence capture, exome
Variant analysis: structural variation
Variant analysis: SNVs, phasing
16S rRNA analysis
RNA sequencing
Splice variant analysis
Transcriptome / gene expression
Fusion transcript analysis
Metagenomics
Real-time, unbiased analysis of mixed samples
Epigenetics
Methylation
Histone modification
Non-coding RNA activity
MinKNOW
---
A Portable, Real-Time DNA/RNA Sequencing Device
Sequencing DNA (or RNA) | Real-time, Ultra Long-Reads, Scalable Technology from Oxford Nanopore
RNA Sequencing with Nanopore Technology
---