PromethION
A High-Throughput, On-Demand, Ultra Long-Read DNA/RNA Sequencing System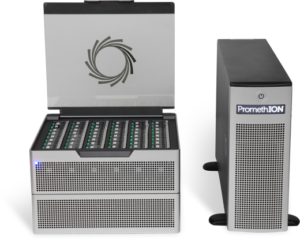 PromethION is a standalone benchtop system designed to run up to 48 flow cells at any time. The system allows on-demand sequencing. Users can start and stop running individual experiments as required, or deploy multiple flow cells onto single experiments for greater speed or throughput.
Features:
High-throughput, high-sample number benchtop system
Modular: Up to 48 flow cells, each with up to 3,000 nanopore channels (total up to 144,000)
Flow cells may be run individually or concurrently
Same workflow as MinION at larger scale
Sample loading compatible with multi-channel pipettes
Real-time data analysis in the device
4 sample inputs per flow cell, allowing loading of up to 192 libraries across the whole device
Integrated compute allows real-time basecalling and onward analysis.
Long reads
Choose your read length, from kbs to 100s of kbs
Easier assembly, phasing
Covering repetitive regions
Real time
Immediate access to data
Rapid time to result – move on
Rapid insight into sample quality
Easy, rapid prep
1D library prep: <10mins, 2 pots
Low cost of materials
De-skill prep
On demand
Use as many of the 48 flow cells as you like
Barcode for even more samples
Run many experiments on one device
Accessible
Easy install
No additional lab infrastructure requirements
Nanopore sequencing offers advantages in all areas of research:
Microbiology
Environmental research
Microbiome
Basic genome research
Human genetics
Cancer research
Clinical research
Plant research
Transcriptome analysis
Population genomics
Animal research
Whole genome sequencing
De novo assembly
Scaffolding and finishing
Variant analysis: structural variation
Variant analysis: SNVs, phasing
Resequencing
Targeted sequencing
Panels – amplicons, sequence capture, exome
Variant analysis: structural variation
Variant analysis: SNVs, phasing
16S rRNA analysis
RNA sequencing
Splice variant analysis
Transcriptome / gene expression
Fusion transcript analysis
Metagenomics
Real-time, unbiased analysis of mixed samples
Epigenetics
Methylation
Histone modification
Non-coding RNA activity
Linux OS
GridION OS
(MinKNOW inside)
---
PromethION: A High-Throughput, On-Demand, Ultra Long-Read DNA/RNA Sequencing System
---