IVIS® Lumina LT System
Industry's most sensitive pre-clinical In-Vivo Imaging platform at an entry level price.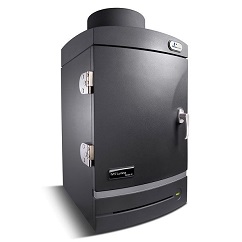 The IVIS® Lumina LT Series III from PerkinElmer provides an entry level affordable, expandable, highly sensitive 2D in-vivo imaging system that is easy to use for both fluorescence and bioluminescence imaging in vivo over the full spectrum wavelength from green to near-infrared. The system includes a highly sensitive CCD camera, light-tight imaging chamber with complete automation and analysis capabilities. Absolute calibration affords you consistent and reproducible results independent of magnification filter selection from any IVIS® instrument within an organization or around the world. The Living Image® software ensures high-quality, reproducible, quantitative results incorporating instrument calibration, background subtraction and the image algorithms.
The system provides you with an adjustable field of view from 5-12.5 cm and with optional zoom and expansion lenses, the field of view can expand between 2.5-24 cm. This feature allows imaging of up to five mice or two medium size rats. The Lumina LT can also accommodate petridishes or micro-titer plates for in vitro imaging. As the leading optical imaging platform for in vivo analysis, IVIS systems include a range of premium animal handling features such as a heated stage, gas anesthesia and ECG monitoring connections.
Features/Benefits:
Bioluminescence
Fluorescence
Radioisotopic Cerenkov Imaging
DyCE Imaging (Optional Upgrade)
Extended NIR Range 150W Tungsten EKE
Absolute Calibration to NIST® Standards
Imaging System Components:



Camera Sensor

CCD Size

Imaging Pixels

Quantum Efficiency



Pixel Size

Minimum Detectable Radiance

Minimum Field of View (FOV)

Maximum Field of View (FOV)

Minimum Image Pixel Resolution

Read Noise

Dark Current (Typical)

Lens

Fluorescence Capability

Excitation Fluorescence Filters

Emission Fluorescence Filters

CCD Operating Temperature


Specifications


Back-thinned, back-illuminated, cooled Grade 1 CCD
1.3 x 1.3 cm
1024 x 1024
>85% Efficiency 500-700 nm, >55% Efficiency 400-500 nm, >35% Efficiency 700-900 nm
13 microns
100 photons/s/sr/cm2
5 x 5 cm (optional zoom 2.5 x 2.5 cm)
12.5 x 12.5 cm (optional expansion 24 x 24 cm)
50 microns
< 3 electrons for bin=1,2, 4; < 5 electrons for bin=8, 16
<120 electrons/s/cm2; or 2 x 10-4 electrons/s/pixel
f/.95 – f/16, 50 mm
Standard
10
4 standard filters with optional emission wheel for planar spectral imaging
-90 °C


Hardware Specifications

Imaging System Space Requirement

Imaging Chamber Interior Dimension

Power Requirements

Stage Temperature

Computer (Minimum Specifications)





48 x 71 x 104 cm (W x D x H)

43 x 38 x 43 cm (W x D x H)

6A at 120V
20 – 40 °C
3.1 GHz, 4 GB RAM, 16XDVD+/-RW, 250 GB and 1 TB HD, 24" wide screen LED monitor

Oncology
Stem Cell Research
Infection Biology
Neurodegenerative Disorders
Parasitology
Virology
Crispr/Cas9 applications
Inflammation biology
Immunology research
Plant Biology
many more
Fluorescent agents, Dyes, Labeling Kits, and Nanoparticles
Bioluminescent oncology cell lines and bacterial created using luciferase (luc2) vector for utlra brite sensitivity
Bioluminescent substrates including D-Luciferin K+ salt and RediJect Luciferin in ready-to-use injectable format
Radioimaging reagents
---
Pre-Clinical In Vivo Imaging Solutions from PerkinElmer
In Vitro Bioluminescence Imaging on the IVIS Platform
In Vivo Bioluminescence Imaging on the IVIS Platform
In Vitro Fluorescence Imaging on the IVIS Platform
---