IVIS® Lumina XRMS System
Industry leading Fluorescence, Bioluminescence and X-Ray Imaging – All-In-One benchtop instrument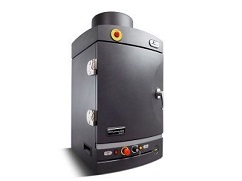 The IVIS® Lumina XRMS Series III from PerkinElmer integrates the best-in-class technology on the market for leading In-vivo bioluminescence and fluorescence imaging with low dose 2D X-ray capability. With the Lumina XRMS, get an anatomical context to optical signal in mice and rats and other large species. The Lumina XRMS includes state of the art spectral unmixing for sensitive multispectral imaging to monitor multiple biological events in the same animal.
The system is equipped with up to 26 filters tunable to image fluorescent sources that emit from green to near-infrared. All Lumina Series III systems come with a novel illumination technology that effectively increases fluorescent transmission deep into the near infrared range with full transmission through 900 nm. Moreover, the Lumina III series instruments incorporate PerkinElmer's patented Compute Pure Spectrum (CPS) algorithm for spectral library generation software tools to ensure accurate autofluorescence removal, unmixing and fluorophore quantitation. Standard on all IVIS instruments, absolute calibration affords consistent and reproducible results independent of magnification, filter selection from one instrument to any another IVIS instrument within an organization or around the world.
An adjustable field of view from 5 – 12.5 cm and an optional 24 cm lens allows imaging of up to 5 mice or 2 medium size rats or zoom lens capability increasing the resolution to 35 μm at a field of view of 2.5 cm. The Lumina Series III can also accommodate petridishes or micro-titer plates for in vitro imaging. The system includes premium animal handling features such as a heated stage, gas anesthesia connections and ECG monitoring.
Features and Benefits:
Multispecies optical and X-ray imaging
Image mice, rats and other large animals
High resolution, low dose digital X-Ray
Exquisite sensitivity in bioluminescence
Compute Pure Spectrum (CPS) spectral unmixing for ultimate fluorescence sensitivity
Full fluorescence tunability through the NIR Spectrum
The Lumina XRMS Series III offers complete and rich calibrated datasets for longitudinal studies with supporting analysis software.
Imaging System Components:



Camera Sensor

CCD Size

CCD Operating Temperature

Imaging Pixels

Quantum Efficiency

Pixel Size

Minimum Detectable Radiance

Optical Field of View (FOV) cm

X-Ray Field of View (FOV) cm

Lens

Minimum Image Pixel Resolution

Minimum Read Noise (e-)

Dark Current (Typical)

Illumination Source Extended

Excitation Fluorescence Filters

Emission Fluorescence Filters




Radiation Leakage

Automated Aluminum Filter

Plate Voltage Range

Tube Current Range

Anode Material

Typical X-Ray Image Acquisition Time

Average Mouse Dosage

X-Ray Tube Window

Animal Height (cm)

Scintillator


Specifications


Back-thinned, back-illuminated, cooled Grade 1 CCD, frame transfer
1.3 x 1.3 cm
-90 ˚C

1024 x 1024
>85% at 500-700 nm, >30% at 400-900 nm
13 microns
100 photons/s/sr/cm2

5 x 5, 7.5 x 7.5, 10 x 10, 12.5 x 12.5 (Optional zoom 2.4 x 2.4)

5 x 5, 7.5 x 7.5, 10 x 10 (Optional zoom 2.4 x 2.4)

f/.95 – f/16, 50 mm

50 microns

Better than 5
<3 x 10-4 e-/pixel/s
NIR Range 150W Tungsten EKE

19

7
Radiation Shielded Cabinet Exceeds standards set by the U.S. FDA Center for Devices and Radiological Health (21 CFR 1020.40)
<0.1 mR/hr
0.4 mm

10-40 kV
1-100 uA
Tungsten
10 s

1-3 mGy
0.127 mm beryllium
0-5.3 (average mouse is 2 cm, average rat is 4.5 cm)
Automated Csl plate placement during X-Ray acquisition


Hardware Specifications

Imaging System Space Requirement

Imaging Chamber Interior Dimension

Power Requirements

Stage Temperature

Computer (Minimum Specifications)




48 x 71 x 104 cm (W x D x H)

43 x 38 x 43 cm (W x D x H)

6A at 120V
20 – 40 °C
Windows® 7, 4 GB RAM, nVidia quadro 600, 250 GB and 1 TB HD, 24" widescreen LED Monitor

Oncology
Stem Cell Research
Implant biology
Infection Biology
Neurodegenerative Disorders
Parasitology
Virology
Cardiovascular studies
Pharmacokinetics/Pharmacodynamics studies
Crispr/Cas9 applications
Inflammation biology
Immunology research
Plant Biology
many more
Fluorescent agents, Dyes, Labeling Kits, and Nanoparticles
Bioluminescent oncology cell lines and bacterial created using luciferase (luc2) vector for utlra brite sensitivity
Bioluminescent substrates including D-Luciferin K+ salt and RediJect Luciferin in ready-to-use injectable format
Radioimaging reagents
---
Pre-Clinical In Vivo Imaging Solutions from PerkinElmer
In Vitro Bioluminescence Imaging on the IVIS Platform
In Vivo Bioluminescence Imaging on the IVIS Platform
In Vitro Fluorescence Imaging on the IVIS Platform
---