Pre-Clinical Ultrasound Imaging
High frequency ultrasound systems are rapid, comparatively inexpensive imaging tool for studying normal development and models of human disease in small animals. Applications of preclinical micro-ultrasound are explored for developmental biology, cancer, and cardiovascular disease.
Pre-Clinical Ultrasound Imaging Insrument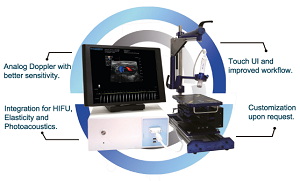 High Resolution Imaging System provides high spatial resolution up to 30μm, allowing researchers to observe the anatomical structures and hemodynamic functions of small animals.