Cell Metric® CLD System
High throughput High Resolution Imaging tool to accelerate upstream cell line development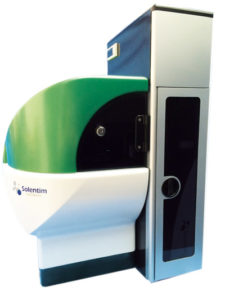 The Cell Metric® CLD is a high resolution high-throughput bench-top imaging system specifically designed to offer an alternative approach for ensuring cell line monoclonality and to speed up Cell Line Development (CLD). The Cell Metric® CLD system apart from its unique cell imaging and image analysis capabilities includes an integrated, temperature-controlled plate stacker. A batch of up to 10 lidded plates can be loaded manually into the stacker and the plates are automatically transferred for imaging one at a time with barcode reading. It is ideal for groups typically having throughput requirements from tens to hundreds of plates.
The Cell Metric® CLD uses non-invasive brightfield imaging for analysis of settled suspension or adherent cells. . This semi-automated image documentation can be used to prove and document mono-clonality in a regulatory compliant manner by providing a permanent record of evidence with photo documentation of cell growth and development from day 1.
Cell Metric imparts following advantages-
High Brightfeild image resolution enables to very well segregatedpair of cells
Automatic focusing ensures clear images
High precision XYZ positioning system
Uniform imaging upto the well edge
High throughput in imaging a batch of 10plates at a time
Temperature control
A complete audit trail report with photo documentation of cell growth and cell development from day 1
The Cell Metric® CLD can now be purchased with fluorescence detection features that enable the user to validate a new a seeding method or quality check their existing method.
Instrument Specifications

Image acquisition Illumination:

Resolution:

Image format:

Acquisition speed:

Cell culture containers




Integrated plate loader

Adjustable temperature control



Brightfield
2 µm per pixel
images stored in TIFF format
for a 96-well microplate, from <3 minutes for full scan
Most cell culture vessels that fit in an SBS microplate format footprint
(128 x 86 mm) can be imaged, including 6, 12, 24, 48, 96, 384 and 1536-well plates.
High-quality plates produce the best-quality images.
Holds 10 lidded SBS-format microtitre plates
(supports 37°C) Built-in barcode reader


Hardware Specifications

Dimensions (H x W x D)



Weight

Computer









650 mm x 465 mm x 500 mm/25.6" x 18.3" x 19.7"
(Instrument only, excludes PC and monitor)
50 kg, 110 lbs
Dell Precision™ workstation
Intel® Xeon® processor
500 hard disk
Microsoft Windows 7, 64-bit
24" flat screen monitor

Single cell cloning
Colony growth monitoring
Stable cell line generation, development and maintenance
Colony counting
Tissue engineering and stem cells
---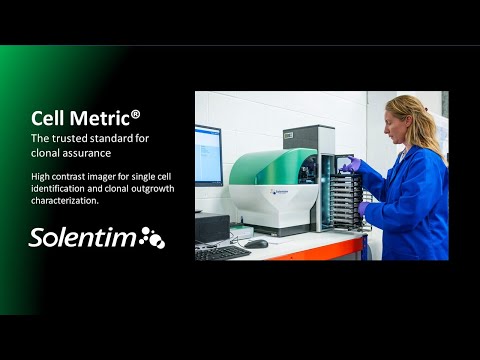 Cell Metric CLD - cell documentation system for regulatory
Interview with Dr Audrey Jia - Episode 1 (October 2015)
Dr Audrey Jia interview - Episode 2 (January 2016)
---